Bringing the ground-breaking value of Aerospray® technology to TB staining.
"Delivering textbook quality staining with trouble-free operation."
The new Series 2 stainers fulfill Today's needs for Laboratories, with an easy and intuitive 21st-century interface.
The Aerospray TB automated slide stainer will stain acid-fast bacteria (AFB) using either carbol fuchsin or fluorescence reagents. The Aerospray TB stainer provides a wide range of staining settings with many possible variables, allowing you to adjust staining as you like for different types of specimens. Only fresh reagents are applied to the slides so there is no chance of slide-to-slide cross-contamination. The reagent consumption is very low, throughput is high using either the 12- or 30-slide slide carousel, and slides are dry and ready for the microscope in five minutes giving superior results.
With the addition of the optional Cytopro® Cytocentrifuge Rotor, the Hematology Stat is also able to deposit cells onto microscope slides.
Features
Aerospray® Technology Showcased
Take a look at our webinar done in partnership with SelectScience that highlights the Aerospray® Technology used in this instrument. Learn how to speed up your slide staining workflow without cross-contamination. <<Watch Webinar>>
The Aerospray Process for TB Staining
The Aerospray TB Stainer stains microbial specimens that have been transferred onto microscope slides along with materials such as digested sputums, culture media, body fluids, or exudates. ELITechGroup TB reagents are tailored to give superb results in the Aerospray Stainer. The Aerospray TB stainer provides a wide range of staining settings with many possible variables, allowing you to adjust staining as you like for different types of specimens.
---
---
HOW IT WORKS:
Reagents are applied from atomizing spray nozzles onto the slides. Staining is rapid and precise. Only fresh stain contacts specimens, avoiding cross-contamination or contact with used reagents. With the addition of the Cytopro rotor, body fluids can be processed in the stainer, making it a dual-purpose instrument in one convenient footprint.


Aerospray technology: reagents are applied from atomizing spray nozzles
SUPERIOR STAINING FLEXIBILITY: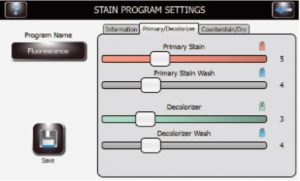 TB programming menu
Aerospray TB gives users the ability to adjust the exact amount of each reagent applied to each slide. Primary Stain, Decolorizer, Counterstain, Washes can be adjusted independently to tailor the staining to individual preferences and to various approaches.
CARBOL FUCHSIN OR FLUORESCENCE STAINING ON DEMAND
With a few keystrokes and a change of reagents the TB stainer can be configured either for staining like Ziehl-Neelsen (ELITe ZN® technology) without the inconvenience of the dangerous fumes linked to the traditional heating phase, but also for auramine or auramine/rhodamine staining methods.

---
Dual-purpose Instrument
With the optional Cytopro®rotor, the Aerospray Stainer becomes a superb cytocentrifuge with eight-slide capacity and programmability, at a fraction of the cost of purchasing a stand-alone cytocentrifuge. It allows users to prepare samples evenly and uniformly on the microscope slide prior to staining, which is a significant advantage to increase the overall sensitivity of TB screening in patients with extra-pulmonary TB or with HIV co-infection.
---
Everything under control
Would you like to secure your settings with an administrator password? Do you want to be reminded to perform preventative maintenance or stain a QC slide? Just program the stainer as you like, and the system will remind you. And don't worry about reagents and waste – the stainer alerts you to expired shelf life or critical reagent or waste levels.
---
More traceability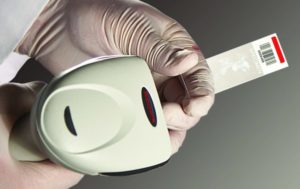 Need to reinforce your QC management and ensure compliance with new lab requirements? The Aerospray TB series 2 memory stores critical information, including reagent data, specimen ID, user ID, and cycle operation history–all exportable via a USB port. The new barcode scanner streamlines data entry, while manual keyboard entry is still an option.
---
Economical
The Aerospray TB Stainer is exceptionally sparing when it comes to reagent consumption. Programmability significantly reduces the volume of reagents required for staining partial loads and thereby substantially lowers reagent cost.
---
Rapid performance
With a cycle time as short as 5minutes, the Aerospray Stainer can process more than 150 slides per hour (up to 400 with the optional 30-slide carousel). No more waiting for slides to dry, and they are ready to view when the staining cycle ends.
---
Easy to use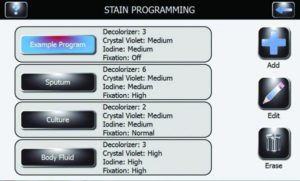 Simply select the user-defined program and start the stain cycle. The stainer takes over from there, precisely controlling all phases of the stain cycle with virtually perfect reproducibility. Automated nozzle clean and purge after each stain cycle ensures performance without user intervention.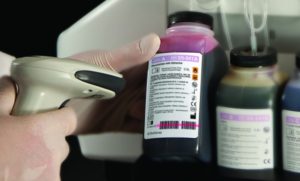 Enjoy a user-friendly interface with innovative features at your disposal, such as a large touch screen, language selection, help screens, nameable and recordable programs, and easy updates with the USB serial port.